HE Awards, Achievements and The Cookery Club
Future Chef competition
Cookery club took a very different twist this year with the introduction of the Future Chef competition. Future Chef is a UK wide competition which involves students with an interest and passion in cookery to showcase their skills.
Future Chef practice took place every Tuesday after school with various chefs coming in and demonstrating their knowledge and expertise to the children. What made it even more special was the two chefs both were students themselves at Ballyclare High School – Michael Gillies and Callum Irwin.
The first heat seen nine students from Year 9-Year 11 participate in the school heat which was judged by Michael Gillies and Callum Irwin. The students really excelled themselves with some fantastic dishes being produced. Erin McClernon (9E) was placed first and Emily Gilchrist (10E) was runner. Both of these girls made it through to the County Antrim heat held in Ballymena Tech which seen Emily securing a spot a place in the Northern Ireland final with her delicious risotto and lime cheesecake. The Northern Ireland final took place in Titanic Quarter with some well known Northern Irish faces in the culinary world including Paula McIntyre. Unfortunately Emily narrowly missed out on a place in the UK but we were very proud of her achievements and excited to see were this takes her.
Level 2 – Food Safety and Hygiene for Catering Award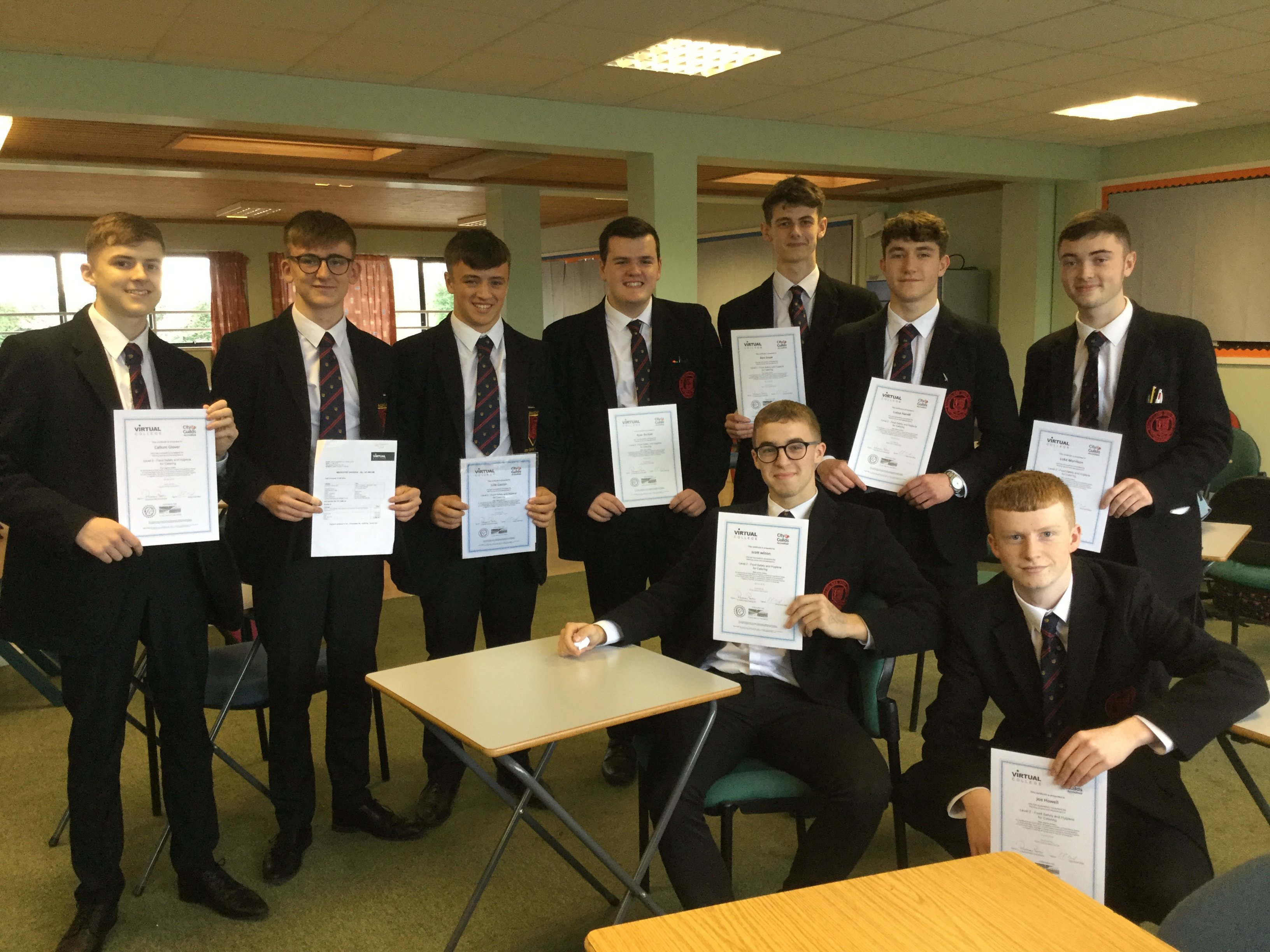 In Ballyclare High School, we have been offering this online course to our 6th form students for a number of years, and it is delivered as part of our Thursday afternoon enrichment programme. We run 4 sessions during the school year in 7 week blocks, with @30-40 students from Years 13 and 14 annually achieving the qualification.
The course is beneficial for our students' general food safety knowledge for everyday life and well as preparing them for work within the food industry. Students studying A level Nutrition and Food Science (formerly Home Economics) and Biology also find it beneficial in supplementing their knowledge where it relates to specific areas of their A level courses.
We think the Level 2 City & Guilds accreditation is a very important aspect of this course since the qualification is recognised throughout the UK, should the student decide to travel further afield.
The Hospitality/ Food and drink industry in N Ireland is a major employer, constantly looking for part-time staff in a wide range of areas.
We explain to our students that this qualification is ideal for those looking for a part-time job before or during university in hotels, supermarkets, fast food outlets, cafes, delis, bistros, restaurants, bars etc etc. A number of our 6th formers have obtained work in these areas.
It's also useful for those helping out with school events such as fund raising bbqs(hockey/rugby) Scripture Union bbq/weekends, cake sales etc
It is at the very least another qualification to add to their CV.
The Cookery Club
Cookery club runs every Tuesday after school for years 8 – 10. Students bake an array of items including traybakes, scones, cakes and brownies, building up to a showstopper bake off style event at the end of the year. This is a fantastic opportunity for all who are keen bakers or have an interest in food.