Rugby
Rugby at Ballyclare High School offers exceptional and unique opportunities to boys and girls of all ages. The journey you go on as a rugby player with our school is first class. We provide challenging and fun training sessions, regular Saturday fixtures, playing against a range of schools from Ulster, Leinster and the occasional touring side always keen to play us. Our rugby programme is built on 4 Key Pillars for Development; Technical, Tactical, Physical and Mental Skills. We deem success that the players are staying in the game after their time with us.
In 2016 Ballyclare High School was selected as one of five schools, who have been identified as implementing a rugby program that focuses on the key elements of this initiative and are Ulster Rugby Academy Partners. The partner schools are regularly invited into Kingspan Stadium, the home of Ulster Rugby, for a Continuing Professional Development (CPD) training days and week-long courses during the summer where they will benefit from exposure to the Hughes Insurance Ulster Academy, Age-Grade pre-season programmes and the Ulster 1st XV pre-season programme. Commenting on the announcement of this new initiative, Head of the Hughes Insurance Ulster Rugby Academy, Kieran Campbell, said: "This partnership will support the schools as they develop their top level players, but it will also engage younger players as they step out on to a rugby pitch for the first time, so we hope it will have the dual result of ensuring talented players fulfil their potential while also encouraging participation at all levels throughout the schools.
We have annual Leinster fixtures with Wesley College, St Gerard's and Blackrock College at relative age levels. Trips and tours are arranged to offer personal growing opportunities and to mix with folk from other backgrounds. Our most recent tour was in 2015 when our senior rugby took a development squad of 44 boys to New Zealand and Australia following this our Medallion XV visited Portugal and our year 8 tour to Dublin each year. We unfortunately had to cancel our 2020 tour to South Africa due to COVID 19.
We field a wide spread range of teams at year 8, Two teams at Year 9, 10 and a competitive Medallion year group who reached the Bowl final in 2019/20 season. Senior Rugby on Saturdays are primarily for 1st and 2nd XV, however we will complete 3rd XV fixtures when opposition are able to. Our 1st XV have recently reached consecutive Subsidiary Shield finals in 2017 and 2018, winning the later Vs Down High. Our 2nd XV and 3rd XV are competitive in their respective competitions, 3rd XV being victorious in the plate in 2019/20 season.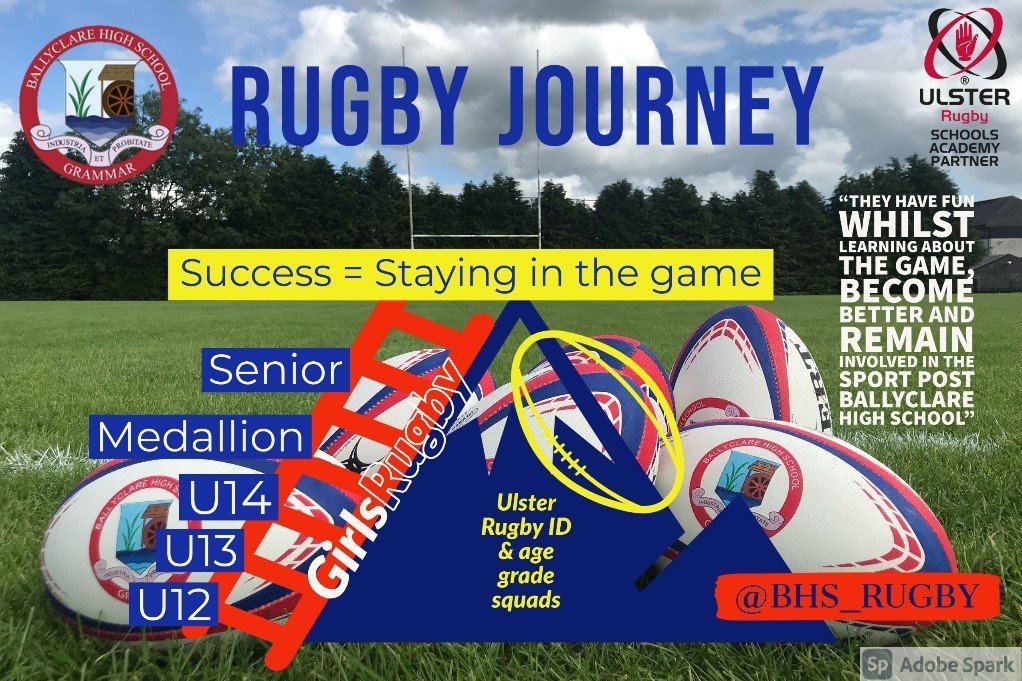 We are very fortunate to have 4 very well taken care of rugby pitches, a sports hall when required for indoor training and the opening of The Knox Gym in 2015 has assisted in our training, development and our conditioning. Rugby offers a strong discipline to life and assists in thinking skills, time management, organisation and life skills form dealing with high pressure scenarios.
Our Director of Rugby and 1st XV Head Coach, Mike Orchin-McKeever, has been an Ulster Rugby Talent ID coach and Ulster U18 Schools' Coach since 2018. Our aim at Ballyclare High School is that they have fun whilst learning about the game, become better and remain involved in the sport post Ballyclare high School.
The most important bit about rugby at Ballyclare High School is that we enjoy it!
Please click the link below for an IRFU and Ulster Rugby Case Study that was created for Good Practice here at Ballyclare High School Rugby
https://ulster.rugby/content/model-club-creating-club-and-school-rugby-connections-a-ballyclare-case-study