Rugby End of Season Reports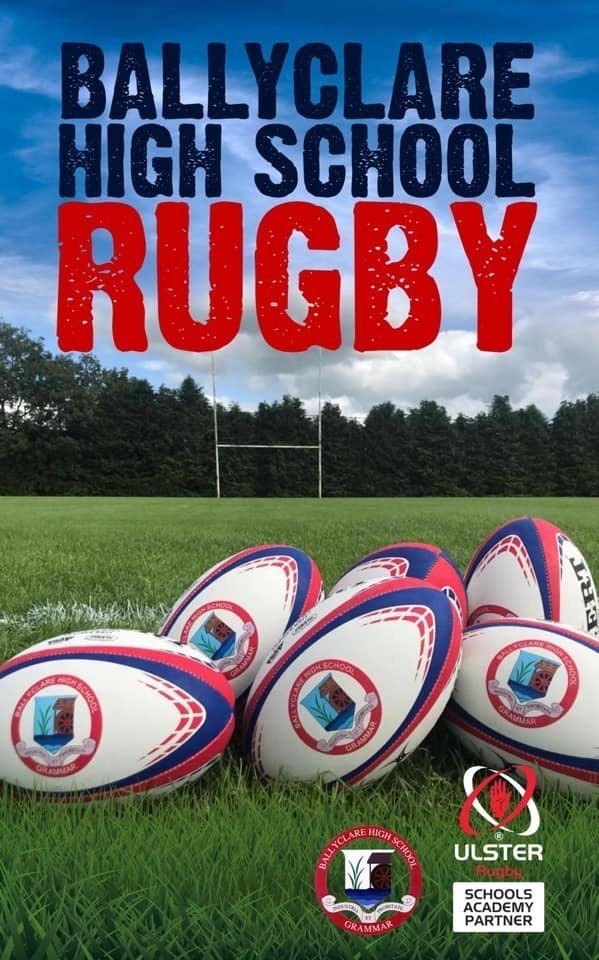 Year 8 Season Report
After being asked to be on the coaching group for Year 8 rugby, I was very excited to try to introduce and develop the rugby skills of these guys.
After a few weeks of training, getting the guys having fun and learning their fundamental skills, our first fixture took us to Ballymena to play a strong Ballymena Academy side. Strong they were. We were able to take around 40 boys out of school on a Friday for the fixture which is a credit to them. With 3 competitive games, the boys thoroughly enjoyed their first run out for the school, coinciding with the large amounts of singing on the bus on the way home.
Another tough fixture for our 3 teams was around the corner when we travelled to Methodist College Belfast. Strong Methody teams dominated the 3 fixtures; however, I can't fault the attitude and commitment the boys showed in all the matches, with Mr Leckey's team coming away with a try much to his delight.
This season, we have become a part of Ulster Rugby's Pilot Programme for Year 8s, with the aim to promote and develop the skills of our rugby players as well as getting everyone involved and increasing the attitude of a team mentality. As normal, scoring your points for your try was a given; however, gaining more points through passing, tackling, getting turnovers and kicking (much to the boys' delight) meant that everyone could gain points for their team.
On the topic of the pilot scheme, our first trip to this type of event was in December to Magherafelt where Mr McKeever and I took a squad of 15 boys to play in a blitz format against the likes of Antrim, Limavady and Dalriada to name a few. With 3 games being played in our group, with the scoring system, we won 2 out of 3 matches, before playing a 4th game to get placed. I'm not sure what the boys enjoyed most, the rugby itself or the selection boxes Mr McKeever had got them.
The boys who were not involved in this event had a fixture against the Secondary School later that day, a draw being the best result. 41 boys getting to playing on this one day, an excellent statistic for the future of school rugby.
A fixture block with Antrim Grammar for our 3 teams led to great success for our boys with a lot of tries scored from all of our teams. The passing skills shown by our boys were brilliant, being a bit too much for Antrim in the end. A shout-out has to go to Oscar Scullion for his 10-try haul in the space of around 20 minutes. Exceptional.
Another blitz tournament related to the Ulster Rugby pilot scheme occurred at Carrick Rugby Club on a cold Wednesday night at the end of January. This was an opportunity for us to take guys who hadn't got the chance to play at the blitz at Magherafelt, allowing them to play in relation to the different scoring system. Again with 3 great performances against Ballyclare Secondary School, Carrick Rugby Club and Antrim Grammar, with lots of game time for everyone, we won 2 and lost 1. With the weather being so cold, after the 3 games, we called it a night. A great evening had by all, and again thanks to Mr McKeever and Mr Leckey for their help (and sweets).
One of our final fixtures was against RBAI. With the guys being so into their rugby, at times you could say that they could have picked the teams, or definitely given their views. So for this fixture, I flipped everything around, making some of our stronger players play with some of our weaker players, giving the chance to help out others, let others get advice and take on advice. I think it's best getting to play with everyone. When playing RBAI, we played 2 teams, flipping them at half time as well to really mix things up. With the 4 different games then, we came away with 3 wins which, as coaches, we were absolutely delighted with.
Due to the recent Coronavirus pandemic, as advised, the rugby season for the boys had to end prematurely. The season has flown in very quickly, and I really hope the boys enjoyed their first year of rugby at Ballyclare High School. They were all a privilege to coach and I hope they can all go and continue to develop and improve whilst making their way up the school.
I would like to say a big thank you to Mr Leckey, Director of Year 8 rugby, for his commitment to it as usual. Thanks also to Mr McKeever for additional coaching and assisting by taking them on trips and organising fixtures. To the past pupils who have also come in to give a hand coaching the group, your help has been much appreciated, especially to the away games. I would also like to extend my thanks to Chris Galway (Regional Rugby Lead, North East) who has introduced us to the pilot scheme as well as coming in every other week to assist coaching and training sessions with the guys. Your help has been greatly appreciated.
Thank you to all the parents throughout the year for having your son at rugby, whatever the weather. I hope you see them coming home after enjoying themselves. Thanks.
Ryan McIlwaine (Coach)
Year 9 Season Report
This season was good and, although we struggled to get many wins, we could see ourselves improving as the year went on. And score lines kept getting closer. Just as we gathered strong form, the Christmas break arrived and then we missed our rugby. We had a big injury to a strong player in our squad over Christmas also. No. 8 Isaac Shiels broke his knee and was out for the rest of the season. In January we travelled together to Dublin to St Gerard's. It was really enjoyable and a great experience and we hope to be able to do more trips next year. We have already been told of an overnight stay and potentially going to an Ireland international.
We will aim next year to improve more and win some matches. Thank you to our coaches this year and bring on next season!
Reuben Ennis
Year 9 Captain
Year 10 Season Report
BHS Year 10 rugby had a more successful season and clearly started to show their full potential this year. The same 23-man squad moved up a gear with an over 60 percent success record.
Its outstanding victory was a convincing 12-7 win over the highly rated Campbell College. Lessons had been learned from close encounters against the top 4 school Methodist College, despite inclement weather. At the RBAI tournament the team had a series of good results.
Despite missing out on the NEBSSA tournament due to COVID-19 Lockdown, the improved squad had many victories over the season and pleased our dedicated coach Mr Milliken, and this looks good for the Medallion year 2020/21 season. 3 of the side, Daniel Graham, Joel Logan and Jacob Scarlett, gained selection for the Medallion XV this year. In addition, six of the squad were selected for Ulster trials: Aaron Beattie, Daniel Graham, Ethan Norwood, James Cochrane, Joel Logan and Jacob Scarlett; however, the trials have not yet been completed due to lockdown.
Jacob Scarlett
Year 10 Captain
Medallion Season Report
The 2019/20 Medallion Rugby season began with four tough games against strong opposition including Campbell College who went on to win the Medallion Shield. A mid-season game in horrendous weather conditions at Hollinger Park against Sullivan Upper showed the strength and character of the team which proved to be important as Sullivan would turn out to be our Medallion Shield 3rd Round opposition.
As fitness improved and the team started to gel, along with the inclusion of some Year 10 players, we began to build confidence and some good results followed. After a tight match against Belfast High, the team put a run of wins together with an extended squad giving everyone some game time (along with doughnuts from the coaches) in preparation for the Medallion Shield. Notable were the new players who only came into the squad this year, Jamie Purdy and Steven Hutchinson, along with the Year 10 players Jacob Scarlett, Daniel Graham and Joel Logan who all made a positive impact when they played.
When the draw for the Medallion Shield was made, we found out that we were drawn against Sullivan Upper at Ballyclare; our earlier match against them gave us confidence going into the game. To prepare for this we put in some extra sessions, with Medallion coach Gary Clotworthy taking the backs and Matthew Coulter coaching the forwards. Poor weather conditions postponed the game from a Saturday morning to a Tuesday afternoon. A close first half ended 7-7 in windy conditions, tries from both teams in the second half brought the score to 19-17 to Sullivan. But, in the dying minutes, Sullivan scored to win the game 24-17. Although we lost, the squad were able to hold their heads high after such a good performance.
Going down into the bowl, we beat Omagh at home which took us to the semi-final where once again we were fortunate with a home draw against Dalriada. A win against Dalriada saw us playing against Down High in the final of the Medallion Bowl. The match was played at Wellington College Belfast on a windy Saturday morning. Playing with a strong wind in our favour we finished the first half in front. In the second half Down High made better use of the wind to win the game 13-6. The match was played in good spirits and both teams gave their all. Although disappointed to lose the team improved and bonded as a squad throughout the year. One of the highlights of the season was our trip to the Aviva Stadium, where we got to train at Lansdowne Road which was followed by a tour of the stadium. A special thanks to Maurice Boyd who sponsored our kit and also our coaches, Gary Clotworthy, Matthew Coulter and Ryan McIlwaine, who put in a lot of their time and effort developing a squad of boys who are looking forward to moving on to senior rugby next year.
James Spence
Medallion Captain
3rd XV
The 2019/20 season was one of steady progression for the Mighty 3s. The season might appear a mixed bag: a few troublesome lows with some very emphatic highs. The climax was as winners of the 3rd XV Schools' Plate.
The season kicked off in early September with a block of three away fixtures. The first match was against Ballymena Academy. Despite being slightly undercooked we achieved parity only to slip up in the last few plays to a 17-12 defeat. Next, we were away to Carrickfergus Grammar 1st XV. We still hadn't fully gelled as a team and went down 34-19. This was probably our worst performance but was a useful wakeup call. The final match in this block was at Campbell College. We seized early control of the match and dominated throughout. Gareth Mawhinney and Lewis Smith both made interception tries to close out a strong 26-15 victory. Ten days later we welcomed RBAI to Hollinger for our first home match. Unfortunately, several forwards unavailable meant that a few backs played out of position. The earlier momentum was not sustained, and we slipped to a 7-19 defeat. Our next match was against Methodist College at home. The match started well with a 14-0 lead at half-time but, during the second half, we suffered several injuries which allowed MCB back into the match for a 14-17 defeat. This reinforced that we needed to start strongly, retain possession, and keep fighting to the final whistle. These lessons emphasised what we would need to achieve in the cup matches.
The 3rd XV Cup second round saw us drawn at home against Methodist College on 25 January. After conceding three early first half tries, we kept our heads up and held our ground. We continued fighting but were unable to make a decisive strike until Timmy Moore sprinted down the wing to score a try under the posts. The match finished at 7-18 – we were gutted.
Luckily, this wasn't the end of the road as the Cup defeat placed us into the quarter final draw for the 3rd XV Plate. This was a chance to redeem ourselves against rivals, BRA, on 5 February at Roughfort. An early scrum under the posts resulted in a Harry Clarke pick up and dive over the line. Despite this we allowed BRA to come back into the game and score an easy try. We would not give them a chance again, building a strong score through further tries from Callum Cochrane, Darragh Flynn, Timmy Moore, and a hat trick from Lewis Smith. The final score was a 43-5 win, showcasing not only an aggressive attack but a resilient defence. We were back on the road to glory!
The semi-final draw sent us to Fox's Field against Campbell College on 29 February. We had already met earlier in the season and knew we could beat them. Strict refereeing resulted in plenty of penalties and a few yellow cards. We were very aware that this was knockout rugby, so we attempted to keep the scoreboard ticking. An early penalty goal gave us the initial lead, but CCB recovered with a try to go 5-3. Another penalty gave us the lead but again CCB recovered with a second try to retake the lead 10-6. Bryn McCallan broke the line to score our first try, converted by Callum Cochrane to close out the first half 10-13. The seesaw nature resumed after the break with CCB retaking the lead with a try. From that point we seized the initiative and began building points with a try from Conor Dargan. Although we were down to 14 men we weathered the storm and upped the tempo. CCB eventually tired and Lewis Smith and Luke McDowell scored to close out the match, 15-37. The strong performance gave us a huge boost of confidence to take into the final.
The final was scheduled for 11 March with Ballyclare as the venue. We were getting to play at our ground, in front of our supporters – the pressure was building. Although RBAI had defeated us in Ballyclare earlier in the season, we were resolute that we wouldn't let that happen again. Our experience to date had shown us that we needed to start strongly and apply pressure by building points. With a strong run of matches since January we were confident in the team cohesion and our ability to work together.
We started strongly with Callum Cochrane kicking a penalty goal to get points on the board and steady our nerves. Although we were achieving some level of dominance both in possession and territory things didn't go to plan. RBAI were able to score two tries on the break, leaving the score 3-12 in their favour at half time. Earlier in the season this would have been a crisis that we would have struggled to overcome, but we knew that the battle wasn't over. The Ballyclare supporters were cheering us on enthusiastically. Mr Lenaghan made a passionate speech and we were good to go.
We started the second half strongly with a fearless try from Olly McCalmont. 10-12, the comeback was on. A period of pressure resulted in Callum Cochrane chipping through and collecting his kick to score. The score was now 17-12 in our favour. However, this didn't last long as RBAI soon equalised. We didn't want this mistake to result in sharing the Plate like in 2016. We still had belief that we could win the match and kept searching for an opportunity to break the deadlock. Time was running out when, in the final moments of the match, we were awarded a penalty on the halfway line. This was the final play and our last chance to win. Callum Cochrane stepped up and as he had done all season stroked the ball over the crossbar, winning us the match. It was an unforgettable moment for all of us. I don't think any of us stopped smiling for hours afterwards. We had the honour of receiving the plate from Mr Ronnie Lamont, and in front of our own supporters – a memory that will stay with us for a long time.
From my perspective this season has been an absolute pleasure. The silverware only added to an already enjoyable season. The team should be proud of their hard work, commitment and discipline. Every player put in a shift. I would like to wish the best of luck to our Upper Sixth players, James Moore and Timmy Moore, who have now left school with a trophy in their hands. I am also excited for next season due to the potential of the fifth and Lower Sixth form players who make up the core of our team. Hopefully, we can build on this momentum for next season.
We couldn't have done it without the help of our coaching staff. I would like to thank Mr McKeever, Gary Clotworthy, Ryan McIlwaine and Matthew Coulter for their time and commitment to our training.  A special thanks must go to Mr Bell who came out every week to train us to give us a little bit of an edge against our opponents. Most importantly, I would like to thank Mr Lenaghan who gave his time to make us the team we are now. We couldn't have achieved what we did without his guidance and 3rd XV Rugby wouldn't have been the same without his leadership. Mr Lenaghan has made this year one to remember.
Rory Lyttle
2nd XV
A home match against BRA marked the beginning of an exciting and successful season for the 2nd XV. It ended 35-12 to us, a well-deserved win, which set us up nicely for the bigger games ahead, as well as leaving us plenty to work on. The following week the boys headed to Campbell College, with excitement running high, we knew it was always a tough place to play. It was a fast-flowing game in which we proved to be the stronger team, with a deserved 36-0 win. The super weather and playing conditions suited our playing style that was starting to develop, of fast-paced, attacking rugby, that continued throughout the season.
Our next challenge was heading down to Wesley College, in Dublin. Despite a long bus journey and rushed warm-up, we started strongly, leading 15-10 at half time, clearly showing the energy and character of this young, mostly 5th year, team. In the second half the wind picked up into our faces and our fitness began to show, as Wesley scored two converted tries in quick succession towards the end of second half. However, the mighty twos fought on, clawing back a converted try. In the last play of the game, 2 points down, we continued to hunt for another score, but unfortunately panicked under pressure, leaving the final score 24-22 to Wesley. This game proved to be a helpful lesson, that really helped us in the rest of our season.
The boys had a brilliant performance next, down at Larne. After overcoming the physicality Larne showed in the first ten minutes, it proved to be an extremely dominant performance for us, in which we were able to trial different moves and experiment with many players in different positions. It ended about 60-0 and began the "donuts" agreement, where the coaches would buy us donuts if we nilled the other team. I think they went on to regret that decision!
INST is never a game expected to be easy, but there was no room for doubt in the build up to this game. The high hopes became reality as we ran in two well-worked tries within ten minutes, with Callum Cochrane adding the extras. At this point we were all full of excitement and, without ever thinking too far ahead of ourselves, we kept them under pressure and won decisively around 50-0. Luke McIlrath had a super game at number 8, frequently finding himself in the outside channels throwing offloads, and Jack Purdy had countless line breaks, scoring at least 3 down the right wing.
The game against Omagh was much tougher, being drawn 0-0 until about 15 minutes left on the clock, with both teams defending fiercely. Eventually, after a long time in attack, with many strong direct carries we managed to score, breaking the whole game up. The game ended 17-0 to us. It was another super performance from the boys.
Against Bangor we lacked our usual energy and allowed Bangor the upper hand at the breakdown. Conor McKee scored our only try of the game, right at the end, showing the great character of our team, but the score ended 26-7 to them. This match was a real low point for the lads.
Tom Turner returned from a few weeks' injury in immense force in the Grosvenor game. He ran 50m with his first carry on the ball shrugging off numerous tackles, before his fitness, rather than an opposition tackle, eventually stopped him. From then on the game was very one-sided in our favour, and was another heavy win and donuts for the mighty twos.
Around Christmas and exam time we missed out on a lot of games because of the weather, and teams not wanting to play us. However, we did get to play some games that included heavy wins at Rainey and at home against Lurgan.
Our Cup run began strongly with a decisive 16-7 win against Sullivan. A few changes were made to the team, and Robert Reid captained the boys superbly, leading by example and coping well under pressure.
The build up to the Quarter final was full of excitement, which increased when we found out we had drawn Campbell College at home. We had beaten them before, but we knew this would be a much tougher task. The captain's run, game prep and warm-up were all very focussed and went smoothly.
The match began more intense than ever. I can still remember being completely exhausted while deciding the calls at the first scrum only two minutes in. However, we settled strongly into the game going 7-0 up after about 15 minutes and then Callum slotted a penalty to make it 10-0. After a long period of super defence from all the boys on our own line, Campbell managed to drive over making it 10-5 at half time to us. In the second half, Campbell had the advantage of a strong wind on their backs, which they made full use of with continuous kicks, trapping us in our own 22. The boys defended like warriors and we were matching the huge physicality of the Campbell pack, but unfortunately the men in black got a couple of tries, but the score was still within one score, at 15-10 to Campbell. As always, our team fought on with exciting rugby, the highlight being Lucca Hamill almost catching up with his kick and chase before the ball ran dead, inches in front of him, after a super run down the left wing. We continued to attack until the very end, everyone giving every last bit of fight they had left in them, but it wasn't enough, and it ended 15-10 to Campbell. This was a sad end to such a brilliant season.
This was the team that scored length of the pitch tries from kick-offs, the team that frequently ruffled the feathers of the 1st XV in training, and the team where everyone attacked liked a back and defended like a 7. I could not be prouder to have captained such an exciting rugby team, through such a brilliant season, right up until the end.
I'd like to wish all boys the very best in the future, and I'm not going to mention anyone in particular, because the amount of talent and depth in this twos was so large, that if you managed to read all this I think that is quite enough.
I'd like to end with a huge thanks to our coaching staff. From the first pre-season session until our last game Mr McKeever, Matthew Coulter, Ryan McIlwaine and Mr Lenaghan believed in us, supported us, and, above all, shaped this huge bunch of random talent into what I would call a pretty good team.
Ross Blackbourne
2nd XV Captain
1st XV
By the time September and the school year came around, excitement continued to grow for the coming season. With a promising group of players emerging into 5th year and many already experienced players, aims were high to match and exceed the success of the previous seasons.
We began our season, as always with a tough set of fixtures against some of the strongest schools. A home fixture to Ballymena Academy kicked off the season and gave lots of the boys a real taster of what 1st XV rugby is all about. An unfortunate loss set us off on the wrong foot but reminded the boys that we need to work hard for results. It proved effective, moving into the next couple of weeks where we secured a huge 52-17 win against BRA, our rivals who always are a tough fight and a narrow 19-10 loss to Campbell College.
With the new format of the Schools' Cup presenting more important games earlier on in the season via the group stages, it was good to get dialled in early and perform to our best.
Towards the end of our first month came a trip down to Dublin to face Wesley College in the squad's annual fixture. Although suffering a 33-15 loss it was a great game with some brilliant rugby played by the backs through Matthew Spence at scrum-half and Scott Martin in the centre, two very important players this season.
A convincing win against Larne Grammar and a narrow loss to RBAI in the following weeks led us into our first Schools' Cup group stage fixture against Omagh Academy, a match everyone was ready to prove a point in. An early lead, through an excellent break from Alex Darrah at out-half and a powerful try from Robert Reid, set us ahead at half time. This was followed up in the second half by a dominating performance by the forwards allowing us to cross the line a few more times and secure a 36-15 bonus point win.
With a win under our belt the boys were keen to continue the standard and a 14-0 away win over Grosvenor did just that. All these matches counted and were important in helping us to be at our best for group match 2 away to Cambridge House, who were expected to be a challenging opposition.
The wet November day added a whole new challenge to the equation. Straightforward, hard Ballyclare rugby was required, just how we like it. Strong carries from Owen Warren, Adam Barron and Jordan Young allowed us to stay on the front foot. With the second half commencing, there was minimal difference between the two sides. It was a deadlock until with 3 minutes left to play, an excellent strike from a penalty by Mark Jackson gave us the lead. The win was there for the taking but, with a lapse in concentration and nerves getting the better of us, Cambridge managed to get the ball back, shift it wide and get over in the corner during overtime for a 19-16 win. A devastating loss for the boys but there was still one group game left and we could not dwell on this loss.
A match against regular opponents Bangor Grammar saw us take a narrow loss in an excellent team performance and great displays of defence and determination against one of the top sides this year. This alongside a 48-0 away win against Dalriada regained our consistency and confidence and sparked excitement for the next group game.
In Group game 3, with Christmas approaching, we were all anxious to put in a performance to be happy with over the break. It was a tense first half with not much difference between the two sides but a try and a conversion from fullback Mark Jackson allowed us to take the lead at the break. Lurgan continued to push us to the limits but we made it difficult with excellent pressure at the lineout and a strong defence. Another try from Mark Jackson opened the floodgates and the home advantage began to kick in as second row Harry McBride and Alex Darrah both added to the score sheet, giving Ballyclare a much-needed 24-0 bonus point win to top the group and emerge into the last 16 of the Schools' Cup.
A true display of heart and commitment paid off and every member of the squad was delighted with the result. However, we then had to prepare for a home tie to Friends' School Lisburn, another familiar Schools' Cup opponent, for a place in the quarter finals.
A set of matches including a loss to Dublin team St Gerrards and two wins over Rainey (29-0) and Coleraine (31-0) led us into February and our home tie against Friends' School Lisburn.
The mild day showed perfect conditions for a game of rugby and after the recent performances the boys were eager to get out on the pitch again. A slow start from Ballyclare saw us concede 3 tries in the first half bringing the score to 0-17 at the break. With our own crowd silenced, a few strong words at half time and reassurance of what it meant to us brought a different side out after the break and a rampaging display from the forwards, keeping the ball for phases on phases which allowed us to get back into the game. We continued to move up the pitch, with all 15 players weighing in and we grabbed our tries back. At this point the Friends players were astonished at the willpower of the boys and they simply could not handle the straightforward barrage we continued to bring. The final whistle went and the score line was a 17-17 draw. A relief that we did not lose but disappointing to see what we could have achieved if we performed well in the first half.
A replay of the match the following Wednesday at Friends had everyone excited, the teams knew each other, the supporters would be out and all we had to do was go and prove ourselves. Unfortunately, a similar scenario occurred and, with nerves getting the better of us, we found ourselves 24-3 down at half time, a seemingly unchangeable score line. However, once again our spirit was shown and we did the same thing in the second half, hard, straight rugby. We moved again grabbing our tries through tremendous effort and carries but unfortunately the time was not enough and the game ended giving Friends the 24-22 win. As captain I can say that every player on that squad gave their all on that pitch and did everyone at Ballyclare and their families extremely proud.
This was not the end; a Subsidiary Shield quarter final at home against Bangor Grammar provided us with a new beginning and a chance to achieve success.
After a trip down to Johnstown House in Dublin for training and preparation the boys were once again ready to go. Another great performance and two tries from Adam Barron and Mark Jackson, two standout players, did not give the boys enough to defeat the strong Bangor side, suffering a 10-17 loss.
All the results aside, from 7 years at rugby at Ballyclare this was the best by a landslide. The camaraderie and brotherhood we built throughout was extraordinary and those team performances and efforts alongside the friendships made will last a lifetime.
I can speak on behalf of everyone in saying that we owe all of our success and enjoyment to the brilliant coaching and support we received throughout the whole year. I would like to thank Mr McKeever, Mr (Gary) Clotworthy, Mr McIlwaine, Mr Lenaghan, Aaron Playfair, Matthew Coulter and our Physio Lucy for everything they do, week in week out, to prepare us for our matches and allow rugby to be as fun as it is.
On behalf of the Upper 6th boys, we would like to thank the staff and the boys for an amazing seven years of rugby. We have built a family through rugby and relationships that will last forever. Good luck to the younger boys in future seasons and enjoy every time you put on that shirt.
YES CLARE!
Jack Gamble
1st XV Captain