Rugby End of Season Reports
End of Season Report – Rugby season summary
Medallion rugby 18/19 end of year report
After being asked to be head coach of the medallions I saw this as a great opportunity to try introducing similar structures which are used in senior rugby. After having worked with seniors for four seasons it was going to be interesting watching how these boys coped with all the new information as now this year's focus would be the Medallion Shield. This was made easier by the work Jordan McKinstry did as forwards coach and Mr McKeever did as Director of Rugby.
Having worked through a few weeks of pre-season introducing new line out calls and lifting for the forwards and new strike plays in the backs we started to see the potential this group had. Our main issue would be the small numbers of players we had to work with. We went into our first match of the season with only 18 players against a Ballymena Academy side with 34 players and faced a tough task but our boys stuck it out and played great rugby which then encouraged a few more players back to rugby and we ended up with a squad of 29 players including a few Year 10s by the end of the season.
In the first half of the season we put in some great results, beating BRA, Campbell, Bangor, Cambridge House, Dalriada and Larne Grammar. We did, however, lose narrowly to RBAI, Coleraine and MCB. Now our focus switched to the Medallion Shield after Christmas and we had been seeded as a top 8 school. We drew RBAI in the Shield and, after cold weather delaying the initial fixture, we played midweek away to RBAI and lost 5-10 in a tightly-fought contest. This meant we now faced Grosvenor Grammar in the Plate and the fixture was set for the Saturday that 7 of our squad would be away on the school ski trip. We worked hard in preparation making the changes necessary to our squad for this game and we went out and gave our best efforts but astonishingly came up short 24-19.
This group has been a great bunch to work with and I hope to see them all step up to senior rugby next season. We had our ups and downs and plenty of laughs together as a group and they showed great maturity and knuckled down when they had to.
My thanks go to Jordan McKinstry and Graham Ferguson for coaching and working with the forwards, Simon Baird and Matthew Laney for coaching and assisting me with the backs and to Mr McKeever for his overall assistance with the whole season and training. A big thank you to friends and family of the boys who came out to watch every week and also helped out with running of the tea and coffee stall to help raise funds for South Africa 2020.
Gary Clotworthy
1st XV Season Report
Following the success of the previous season the squad began this year looking to build on the foundation left with the remaining players that were part of the Subsidiary Shield winning squad and emulate that success.
We kicked off our season with an away trip to Ballymena, a strong physical side made up largely of their Medallion Shield winning team from the previous year. A difficult game to start the season and unfortunately we lost this opening fixture. However, there were promising signs for the season with a number of players getting their senior debut and Robert Reid getting over for his first senior rugby try (12-26 L). The following week brought another away trip, to Roughfort to face BRA. This has been a derby fixture for years and a solid performance in the first half, followed by an impressive defensive display meant we secured our first win of the season (12-11 W). Campbell at home, last year's winners of the Schools' Cup, continued our tough opening run of fixtures. We looked to build on our performance against BRA with further improvements and did so with some good attacking rugby, but sloppy errors and holes in the defence meant Campbell were victorious (10-24 L). A new fixture was added this year, with a home match against Dublin side Wesley College and this presented our first chance of silverware, with a Shield up for grabs. This was a tightly-fought contest with some good all-round rugby from both schools, but Wesley were the better side on the day and came out on top.
Next, a midweek fixture against RBAI, and a heavy loss suffered for the squad, showing a lot of improvement was needed if we were to compete with the best sides in our following fixtures. We then had a point to prove away to Belfast High School. A dominant performance saw us come away with a comfortable win showing some great continuity and attacking rugby with Mark Jackson managing to bag himself a hat trick (59-7 W). A tough away fixture to Bangor Grammar followed and saw the first of 3 tight encounters. A red card to Bangor's scrumhalf in the opening 15 minutes saw them go down to 14 men. Bangor went ahead early on and even though we had majority of possession and territory we could not crack their resolute defence (7-12 L).
Continuing to grow as a squad each week we had another comfortable victory, this time at home to Grosvenor. A dominant attacking display showcased both our handling and continuity, promising signs for the remainder of the season (42-7 W). The following game against Cambridge House was slow to start and a couple of breakaway tries saw Cambridge House lead at half time. However, an impressive second half performance meant we came from behind to get the win (29-19 W).
Our 2nd match against Bangor was a home fixture. This was a more open contest with some quality tries scored by both sides, but unfortunately we came up short again with a late Bangor score sealing the win for them (20-28 L). We then played Dalriada, also at home, which is always a tight encounter and this match provided much of the same with both sides being evenly matched. On this occasion we came out with a hard-fought victory with only a conversion separating the two sides. A good performance and the improvements made throughout the season were beginning to show (26-24 W). An away trip to Friends was a strange encounter, with no fans allowed to make the trip due to the potential noise during an AQE morning. It was a game of end to end attacking rugby and some impressive try scores, the best of the bunch coming from a 'Blackrock', finished off by Matthew McCullough in the corner. Friends managed to stay in the game but the result never looked in doubt as we continued to pile on the points and get the win (32-25 W).
A home match against Methodist College rounded off our fixtures before the Christmas break. With talent on display that saw them become eventual winners of this year's Schools' Cup, they proved too strong for us and it was a disappointing loss. However, the game highlighted exactly what we needed to improve upon with the Schools' Cup just around the corner.
After a long 3 week break over the Christmas period we faced Rainey Endowed. We were back at full strength now, just before Schools' Cup time, with Josh Cowan returning from a long term injury providing another boost to the squad. This game was a tale of two halves as we failed to get going from the off and trailed 19-10 at half time. A very impressive attacking display in the second half saw us run away with the game and rack up an impressive 31 unanswered points, playing some of our best rugby of the season (41-19 W). After two weeks of hard work in training, our first Schools' Cup game was drawn away to Friends School Lisburn in the 3rd round. We knew it was going to be a tough encounter but thankfully a large crowd of supporters made the trip which made it feel almost like a home fixture. A well-executed game plan saw us dominate the majority of the game. Friends went ahead in the opening minutes with a penalty kick but our attacking pressure proved too much for them as we went into half time with a 2 score lead. Further pressure in the second half bombarded the Friends defence as we enjoyed much of the possession and proved to be too much for them, ending with Ballyclare scoring another 2 tries to come out victorious (25-6 W).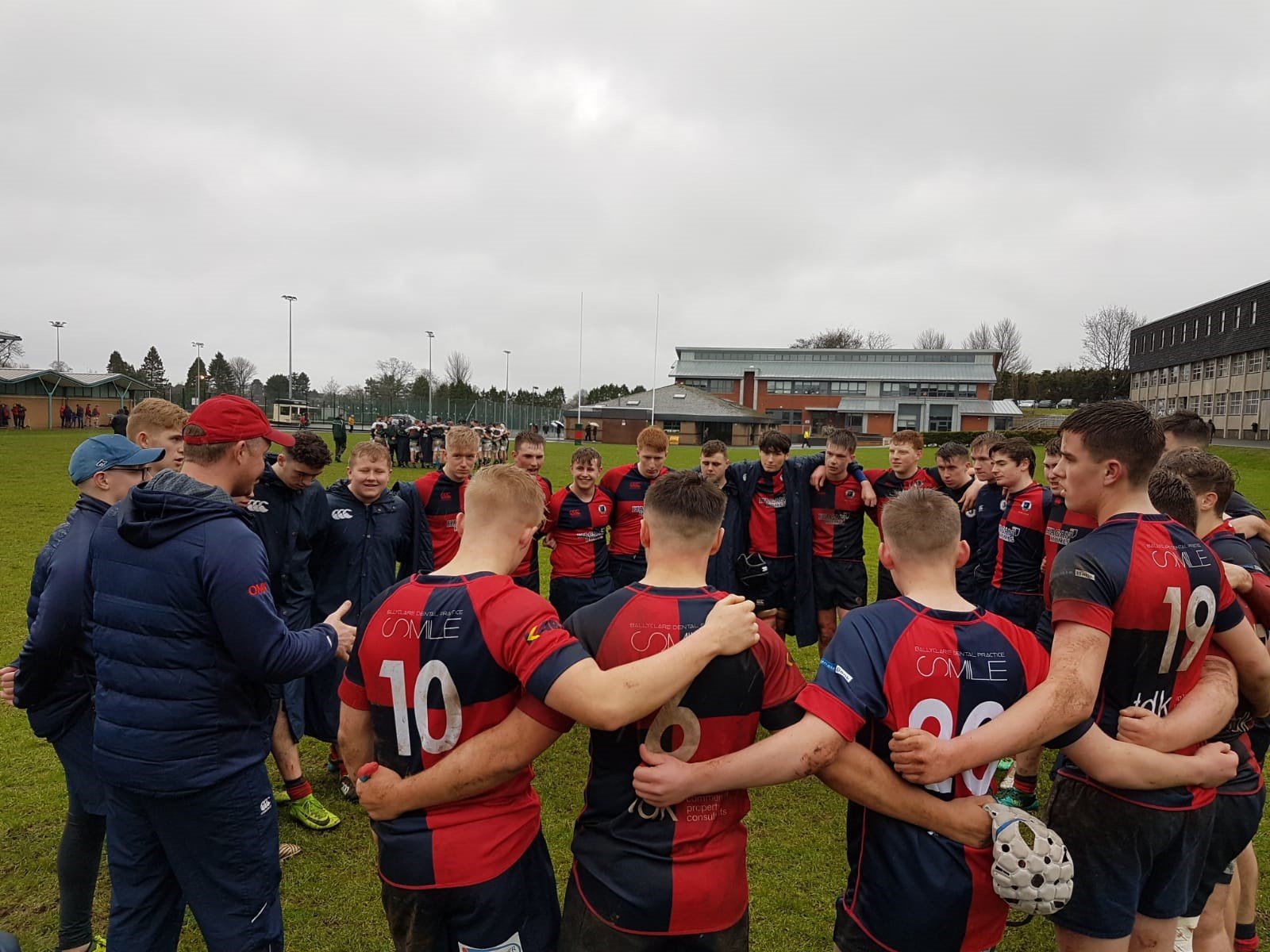 The following draw produced another away fixture, this time to Rainey Endowed.  With our performance in the previous round and a real togetherness within the squad, confidence was high going into the fixture. We started strongly, applying pressure to Rainey's defence deep into the 22. With a lineout 5 metres from the Rainey line, a quick throw to the front caught Rainey sleeping and Ethan Crawford dived over in the corner for our opening score.  Rainey replied shortly after with a series of offloads resulting in them equalling the score at 5-5 at half time. Errors and a number of knock-ons from both sides meant the game was full of set pieces. A penalty in front of the posts saw Rainey take the lead, followed by a breakaway try from a disrupted maul which meant Rainey were 15-5 up leading into the final quarter of the match. We applied a lot of pressure to the Rainey defence through good phase play and ball retention. A penalty given away just 5 metres short of their line meant Rainey went down to 14 men for the remaining minutes of the match. A great line off the scrum from Jack Gamble, our standout player this season, saw him bounce off several Rainey players to score a much needed try. The conversion was quickly taken by Adam Clarke and left us 3 points behind with only a few minutes left on the clock. Despite the best efforts from all of the squad it wasn't meant to be and our Schools' Cup run came to an end (12-15 L).
This loss meant we were entered into the Subsidiary Shield, drawing yet another away fixture and playing Bangor for the 3rd time this season. We opened the scoring with a well worked try early in the first half but this was closely followed by a Bangor reply, seeing them take a 7-5 lead. Another set of back and forth scores left us trailing by 4 points at half time. This continued into the 2nd half with us having majority of the possession. Despite our best efforts piling on the pressure, we could not overcome the 4-point deficit due to a series of handling errors close the Bangor line. With only a few minutes left Bangor managed 2 unanswered scores to leave the score line unreflective of the game and our performance (24-42 L).
Fortunately, we were able to finish the season on a high with a great set of results in the Ulster Schools 7s tournament, reaching the final of the competition.
Although the results in the domestic end of our season were not what we had hoped for, the effort from the players in training and on the pitch each week cannot be faulted. It has been a really enjoyable season, playing a great brand of rugby that was entertaining for both us and the supporters.  I would like to thank all the players for their commitment and efforts throughout the season and the supporters for turning up to cheer us on each week, no matter the conditions.
To the coaching staff, Mr McKeever, Mr Lenaghan, Gary Clotworthy, Aaron Playfair, Matthew Coulter and our physio Lucy, we all appreciate the work you do every week, on and off the pitch, to make sure we are as prepared as possible for the week to come.
As this was my final year of school rugby, on behalf of myself and the others leaving, I would also like to say a massive thank you to all those who helped and supported us playing rugby at Ballyclare High School. We take with us many fantastic memories from the past 7 years which I know we will reminisce about for many years to come.
Adam Campbell 1st XV Captain 2018 – 19
Director of Rugby Review 2018/19
In the context of the values, spirit, development, pathway and journey of rugby at Ballyclare High School, I would like to give you some 2018/19 highlights and to explain what we offer.
From entering the school at Year 8 we aim to provide a fun learning experience of rugby for all and have them develop each year in their understanding and appreciation of the game. Senior Rugby is continually growing in numbers each year and this season's highlight was
seeing our 4th XV compete in the 3rd XV cup and winning their first fixture v RBAI 5th XV. For me rugby is the best game in the world; it involves sprinting, tackling, pushing, kicking, team work and communication. Teams will have high and low moments; the important factor is how we learn from a win and loss. We have regular early morning training sessions for all ages. We aim for weather to not dampen our ambitions and excitement for rugby and, when safe, rugby will continue.
Teams get to participate in NEBSSA competitions, experience trips to Dublin for training, matches and watching professional matches. We have a new partnership with Wesley College, providing a regular block fixture. It is encouraged that players get to play in a range of positions to experience the skill set required, but also to offer opportunity to express play in different positions. We have many pupils selected for representative squads and it is a delight to see them striving to improve themselves and challenge the best in Ulster.
Well done and thank you to all players of rugby this season and to our staff.